| | | |
| --- | --- | --- |
| | | |
| | About Us | |
| | | |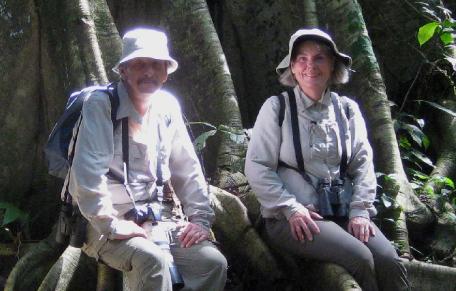 Jette Wulff is a small-town native of Denmark but has lived in the U.S for the past 30 yrs. Although still making annual family visits to her home country, she really enjoys life in the U.S. and living in the Chicago area even though the Cook County population is more than all of Denmark.
Tony is a Chicago native who has lived in several areas in the U.S. as well as a year in Denmark where he met his future wife.
Both Tony & Jette are retired...she from her job as an accountant and he as a professor of neuroscience. Their regular birding travels have taken them across the globe...visiting six continents in the past few years. With the help of expert birding guides, Jette has become more the birder and Tony the photographer. "She finds the birds and he 'shoots' them."
Woodworking is the other major avocation often incorporating bird themes and photos into old-fashioned wood toys and puzzles as well as t-shirts which are very popular with the children and grandchildren of friends and family. Other bird-inspired items include placemats, an increasingly-popular annual bird calendar and more recently a line of jewelry. "It's a hobby not a job" so there is no woodworking web page but if you send us an email we'll let you know what's currently available or could be made available for sale at reasonable prices.
Lastly a big salute to the wonderful birders and expert guides we've met in our travels.